THE CLUB EMAIL
"The real question is, once you know the right thing, do you have the discipline to do the right thing and, equally important, to stop doing the wrong thing?"
-Jim Collins, Good to Great
Almost Time for 2019!
Renew Your Membership with the GSTC Today
2019 USATF-NJ
Grand Prix Team Races
4/7  Cherry Blossom 10k (women only)
4/27 Clinton Country 15k (all)
5/19 President's Cup (open men only)
6/23 Milford 5k (masters men only)
8/18 Midland Mile (all)
8/25 5k XC Champs (all)
9/8 Crooked 12k (all)
9/22 8k XC Champs (all)
10/6 Little Silver 5k (masters women)
10/13 Shades HM (all)
11/10 Giralda 10k (men)
11/28 Ashenfelter (all)
VOTE FOR THE BEST GSTC PERFORMANCES 
OF 2018
RESULTS WILL BE IN 2018 HIGHLIGHT VIDEO AT TEAM GALA
**************
Club Finishes 6th Overall at USATF Club XC Nationals
As the climate continues to shift nationally, it's becoming less and less common for a club to compete at club xc nationals with both a strong men's and women's squad.  Instead, the more competitive teams, over the years, have become single-gender all-star teams thrown together singularly for this event.  
That said, this year was the GSTC's highest combined finish, as the men's and women's 11th place finishes gave them 22 points, good for 6th overall.  This was the best finish of any East Coast club, edging out two New England clubs and one from DC.
The Hansons Distance Project, fraught with professional full-time runners, had the highest combined finish with six points.  Club Northwest, the Seattle-based club that finished just ahead of the GSTC in 5th, was founded in 1972–a mere 38 years earlier than the GSTC did.
Central Park TC, the club's cross-river rival, edged out the GSTC women for 10th place, but for the second year in a row, didn't have a men's team.
6 Hansons Distance Project (MI: 2, 4)
12 Hoka Aggies RC (CA: 5, 7)
14 Nomad TC (TX: 1, 13)
16 Strava TC (CA: 4, 12)
18 Club Northwest (WA: 8, 10)
22 Garden State TC (NJ: 11, 11)
23 Cal Coast TC (CA: 7, 16)
25 Tracksmith TC (MA: 9, 16)
27 Boston Athletic Association (MA: 8, 9)
32 LRC Racing (NE: 13, 19)
33 Pacers/ Georgetown RC (DC: 16, 17)
34 Jacuzzi Boys AC (OR: 26, 8)
35 Run a Blaze (IA: 17, 18)
39 Run n Fun (MN: 25, 14)
40 Kansas City Smoke (MO: 20, 20)
41 Playmakers (MI: 14, 27)
46 Philadelphia Runner (PA: 23, 23)
50 Valor TC (CA: 12, 38)
50 Battle Road TC (MA: 22, 28)
52 Seattle RC (WA: 28, 24)
58 West Valley TC (CA: 27, 31)
66 Red Lizard RC (OR: 19, 47)
67 Bellingham Distance Project (WA: 21, 46)
M40s Finish 10th
Frieder & Knowles Lead Team to Club's Best Finish
The men's masters team, coming off a banner year, finished 10th overall in a stacked field at the USATF National Club XC Championships.  Although the consensus was this was an underperformance for the team, it still marks the best finish for a M40s team at the annual December event.
Jonathan Frieder was the squad's #1 man with a solid 34:57 effort, good for 34th overall.  Thom Knowles, after almost 1.5 years of fighting injuries, ran an impressive 35:36 as the #2 man as teammate Sam Teigen was just ten seconds behind, in 35:46, as the #3.  Elliott Frieder (36:23) and Shawn Williams (37:34) rounded out the scoring top five.
Rich Osifchin (37:41), Jason Timochko (38:04), Gary Leaman (38:41), and Chris Rinaldi (40:04) were the club's other finishers.    
Women Finish 11th
Goose Breaks 6k XC Club Record as #1 Finisher
When you look through the club's annals, Shelby Goose is seemingly everywhere… just not as the club record holder.  Second behind 2016 Olympic Trials qualifier Carmen Graves in both the road 5k and 8k, Goose finally got her club record last weekend, crushing the 6k xc course in Spokane in 20:48, a solid four seconds faster than Graves did in San Francisco's Golden Gate Park in 2015.
Trackster Nicole Burlinson also had an incredible day at the races.  Despite finishing as the team's #5 at Ashenfelter, she rallied for an all-time 6k xc personal best, crossing the finish in 21:28–just two seconds ahead of Nike Mateescu's 21:30.  These were the #3 and #4 times in club history.
Just behind them was Laura Cummings, whose 21:55 was the club's #6 all-time effort.  Erika Meling was the #5 with a PR of 22:43, followed by Emily Rosario (22:48), Shannon McKenna (23:47), and Kate Ashley (25:30).
GSTC'S TOP 10 ALL-TIME 6k XC PERFORMANCES
20:48              Shelby Goose             USATF Club Nationals           December 8, 2018
20:52              Carmen Graves          USATF Club Nationals           December 12, 2015
21:28              Nicole Burlinson        USATF Club Nationals           December 8, 2018
21:30              Niky Mateescu           USATF Club Nationals           December 8, 2018
21:35              Cheyenne Ogletree   USATF Club Nationals           December 13, 2014
21:55              Laura Cummings       USATF Club Nationals           December 8, 2018
21:58              Crystal Burnick          USATF Club Nationals           December 12, 2015
21:58              Alyssa Vassallo           USATF Club Nationals           December 13, 2014
22:00              Kate Scott                   USATF Club Nationals           December 9, 2017
22:01              Ally Black                    USATF Club Nationals           December 13, 2014
Men Finish 11th
Gillette Breaks Streak & Finishes as #1 Man
Fifty of America's best cross country teams showed up to Spokane last weekend, and the GSTC men finished 11th and 39th in the loaded field.  The only other New Jersey team to compete, Breakneck TC, finished 42nd overall.
After finishing as the club's #2 at club nationals in 2015, 2016, and 2017, Matt Gillette finally broke the streak, as the Shippensburg alum ran 30:54–good for 38th place as the club's #1 man.  There was rampant speculation that the course was 200m long, thus making this a bit slower than his 30:16 effort in SF in 2016.
Nick Filippazzo ran a calculated negative split, as his 31:22 was just steps ahead of #3 man, Addison Monroe's 31:31.  Aaron Leskow's 32:02 cracked the top 100 (88th) as the #4, and Kyle Price was about fifty spots behind him as the #5 (32:32/123rd).  Stephen Rathbun was the #6 insurance man with a 33:10.
The B Team had another exceptional performance at the event with Evan Ward (32:48) and Sean Donohue (33:02) leading the way.  Matt Eder (33:33), Tim Ball (34:19), and Kevin D'Emic (34:54) rounded out the scoring top five with Brendan Conway (35:15) and Mike Kennedy (37:58) the final club finishers.
USATF-NJ ANNOUNCES 2019 SCHEDULE
USATF-NJ NOW DIRECTING FOUR OF THEM
The USATF-NJ Long Distance Running (LDR) Committee announced the 2019 Grand Prix racing schedule, and to no surprise…….
there were many surprises.
The most striking observation is that four of the races are now hosted by the USATF-NJ.  This includes both cross country races and the sparsely attended 12k and half marathon races.
The PA-USATF is the same way.  Additionally, they have 
clubs
 host their association's cross country races throughout the season.  For example, West Valley TC hosts the annual 
Garin Park XC Challenge every September
, a stalwart on the association's XC series.
The USATF-New England association, by contrast, actually has its association members vote on Grand Prix races.
What stands out most about the Crooked 12k and Shades Half Marathon selections are their relatively low attendance.  Despite being an All-Divisions Championship in 2018, the 12k had a mere 184 finishers; Shades of Death had 174.  As a frame of reference, the Garden State 10 had 452 finishers in the ten miler…and almost one thousand when adding in the 5k.
The President's Cup makes an appearance back on the circuit, but it's no longer on its hallmark Monday evening in June date.  It's now just another Sunday morning 5k, perhaps taking away from its unique luster as an evening novelty race.
The schedule also includes three races in four weeks during the end of summer, a time when many are either traveling, base training, or both.
Finally, the "East Brunswick 12k" not only makes its debut as an event, but it also magically lands itself on the Grand Prix without any prior history.  A website for the event does not exist, and it's currently not listed on the USATF schedule of sanctioned events for 2019.
LOCAL MAN ARRESTED FOR BEING SO SEXY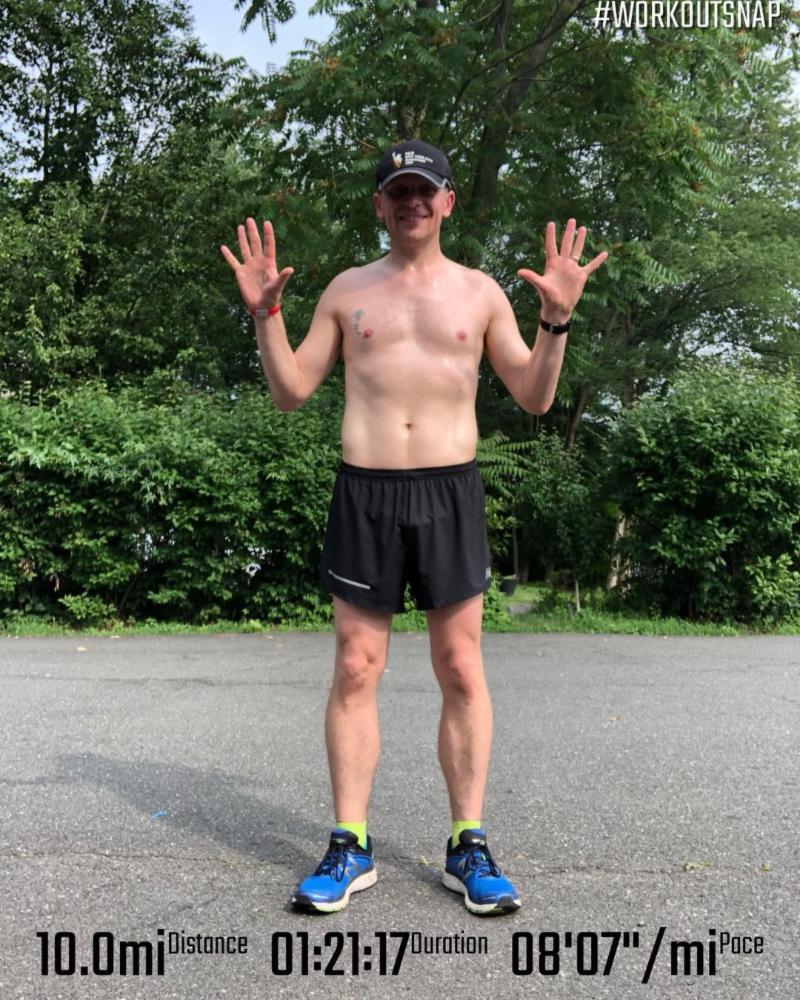 FRIEDER TWINS NOT IMPRESSED WITH YOUR HOLIDAY CARD
"Are you kidding me?  A picture of your son and two dogs?  Are they 48 years old and PLP over 90%?  I didn't think so."
University Orthopaedic Associates
Orthopaedic Specialists to the Runners
At University Orthopaedic Associates (UOA), we understand how important running is to those who enjoy participating in the sport. We also understand the impact it has on you when you can't do what you love because of an injury.
From running to field events; recreational to professional, we have years of experience treating and preventing runners' injuries as well as enhancing performance. We are now proud to care for the Garden State Track Club runners as the official orthopaedic practice.
We congratulate the UOA Athletes of the Week over the last month!  Here are two of them!
Around the Clubhouse
Join Strava.  Follow Your Teammates. 
Two big reasons why you should join Strava.
Exhibit A- on the left.  You can engage in provocative, thoughtful dialogue with your teammates about training.
Exhibit B- on right.  You can see what your teammates are doing every day and every week.   Trust us on this one.
Curious About How and Why the GSTC Started?
2019 HALL OF FAME
The GSTC Hall of Fame Committee has announced the 2019 nominees for potential induction into the GSTC Hall of Fame.  These fine members, who have all made incredible contributions to the club over the years, include Matt Baker, Kyle Price, Prudence Jones, Alyssa Douma, Tyrone Ross, and Ricky Garcia.
During the GSTC Gala on March 8, the winner will be named and thus joining the ranks of Jeff Perrella (2015), Cheyenne Ogletree (2016), Edsel Flores (2017), and Ken Goglas (2018). 
Support Our 
Club's Sponsors
Rebecca Matyash
Keller Williams Real Estate
rmatyash@gmail.com
732-718-3404
Looking to buy, sell or rent a home in Somerset, Middlesex,  Mercer,  or Monmouth County NJ? Rebecca Matyash, the official real estate agent of the Garden State Track Club is here to help you. Rebecca is an agent at Keller Williams and a winner of the NJAR Circle of Excellence Award Winner 2014-2017.  Her passion is helping people find the homes of their dreams.  If you're thinking about selling your home or buying  in Central Jersey Rebecca should be your first call.
Don't Be Bored 
This Week.
We have team runs every day somewhere in New Jersey.  Or, post your run on a team FB page.  Always easier with a friend!
Team Track Sessions
Wednesday night and Saturday mornings.  All winter long.  Highland Park HS.  Join us!
Get Your GSTC Gear
Okay, so the new club shoes are still in the prototype phase.  But the New Balance gear fits great!
Contact Joe Jacobs, owner of Sneaker Factory-Florham Park, to order all team gear or to get discounts on any running apparel.  Team gear can also be purchased on the club website.
gstcuniform@gmail.com

Join Our GSTC 
Youth Team!
  Practices are in full swing!
Pay Your 2019 Dues…
and begin to look upon the horizon of what great things are to come in this next year with your team, teammates, and your own running!